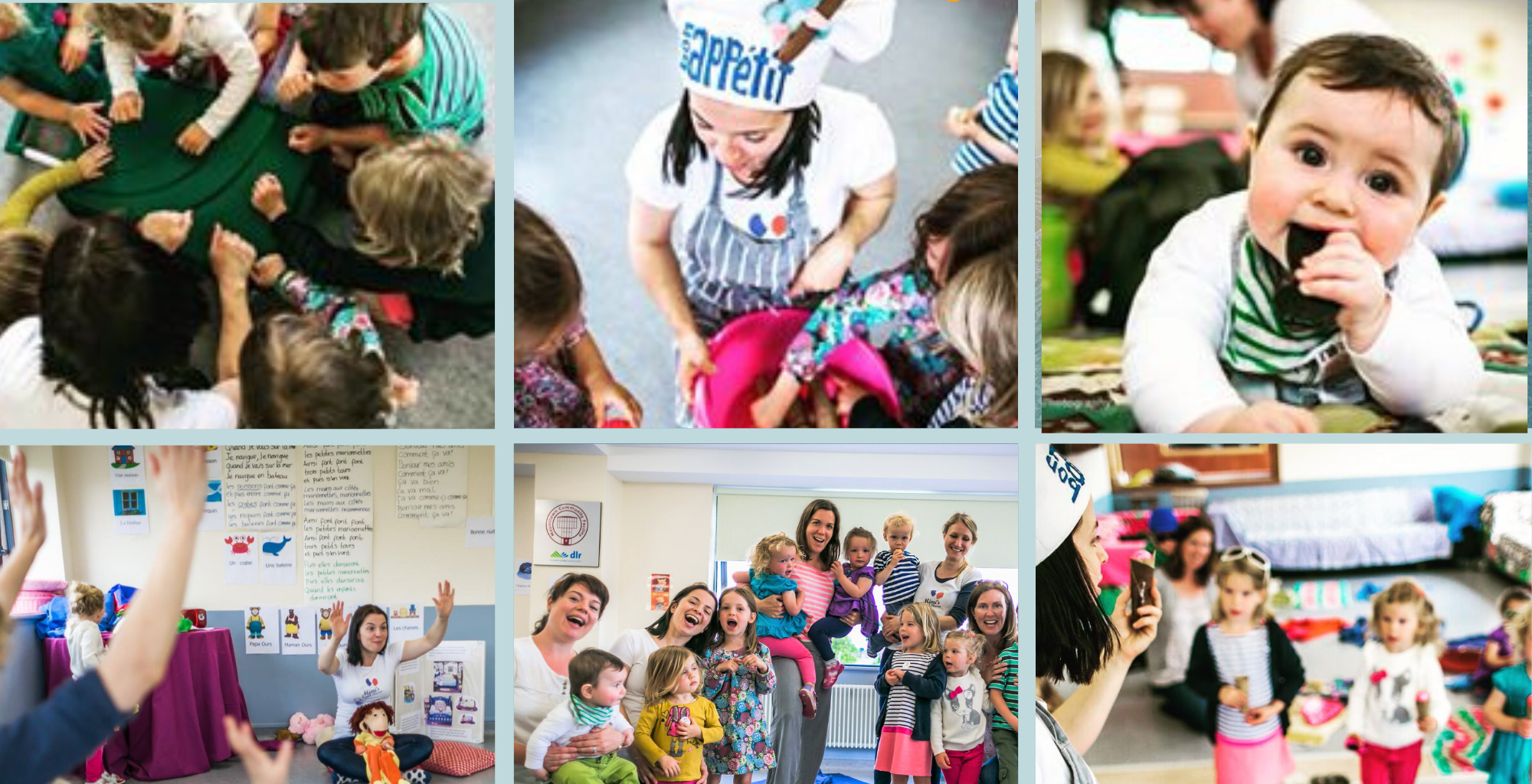 Mimi's French Classes
Set up by two qualified teachers and language teaching specialists, Mimi's French classes have been bringing dynamic and fun French classes to babies, toddlers, preschoolers and their parents, as well as school children up to 8 years old, in Dublin since 2014.
We now have the pleasure of bringing our Mimi's classes, our songs, stories, games and activities to children and preschools all over the world, through our online classes.
An access anytime, online French course for 3-6 year olds.
Find out all about our course
and see a preview of the course videos.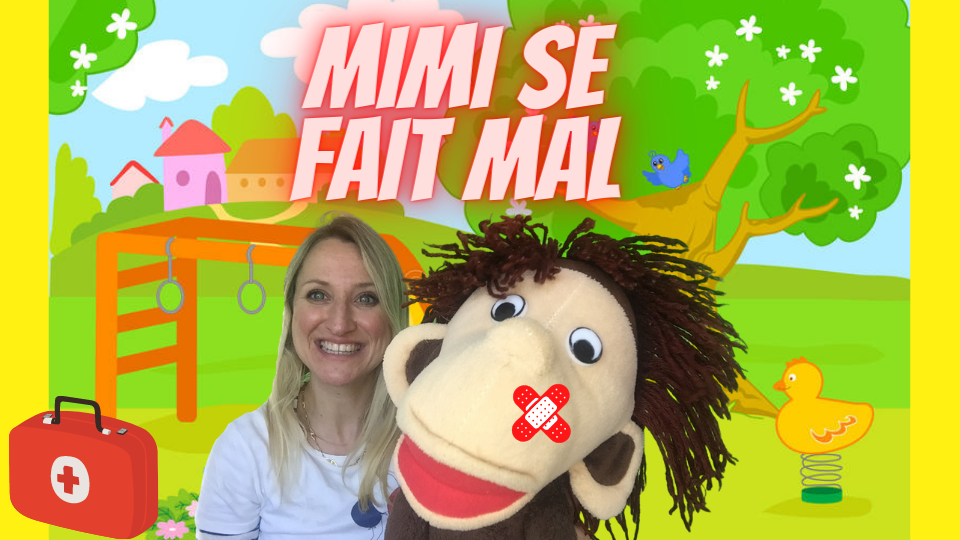 Course: Mimi se fait mal
Your little ones will learn lots of important, practical everyday French in this course about how to say where they are sore or have hurt themselves. 
WATCH: Six videos about Mimi's trip to the playground and her bumps and falls. Through Mimi, your children will learn key words and phrases about how to express where they are sore or have hurt themselves. We have an active song about going on an adventure through the jungle and meeting lots of wild animals. 
The videos also teach greetings, counting up to 10, some colours and parts of the body. Over the six videos children will make steady progress in a gentle and fun way through our catchy songs and simple phrases. Each video will build on the vocabulary covered in the previous video which allows for easy progression. 
READ: Read Mimi's e-book Mimi se fait mal with audio. This course centres around this book, with all the vocabulary in the book covered in the videos. By the end of this course, the children will be able to understand the story in French and recognise and say some of the words in the book. 
LISTEN: Our really catchy songs help to reinforce the important vocabulary and phrases learnt. So, listen to our songs on MP3 whenever and wherever you like. 
PLAY: There are two fun activity packs to suit different ability levels with lots of crafts, games, activities and ideas for your child to practice what they have learnt during the sessions.
Included in the course: Six x 12 minute teaching videos, an e-book storybook with audio, Mp3s of our songs and an activity pack.
Use this block to showcase testimonials, features, categories, or more. Each column has its own individual text field. You can also leave the text blank to have it display nothing and just showcase an image.
Available in days

days after you enroll

Mimi se fait mal - course material.
Available in days

days after you enroll

Learning Videos 1-6 🎦
Why learn with Mimi's?


At Mimi's, we want to give our young learners the very best start so that learning French is a positive, magical and fun experience. We want them to say "J'aime le fran
ç
ais."
In our online courses, we use our cheeky puppet Mimi to teach French vocabulary and phrases. We also use catchy songs, an easy to read French storybook about our puppet and lots of crafts, games and activities to keep your little ones entertained. All these activities consolidate the same learning, so the children won't even realise they are learning.
Testimonials
"Aged 2 and 4 LOVED the online course! I was surprised at how engaged they were and how much they learnt via the videos! They were joining in with the songs and actions very quickly! Thank you Mimi's! " (Cara 2 & Aoife 4)
"Hello. We watched lesson three earlier in the week and Alice loved it! The peals of laughter over the 'hat throwing' - really lovely to hear! So we are really enjoying the course - high quality, with each lesson the ideal length for the age group, enough content to engage without overwhelming with new material/vocab" (Alice 4)
"From the backdrop and setting to the dialogue and theme, the entire course was super well thought out and unique. Maia was chatting and clapping along with you every step of the way. The book and the activity pack are the perfect compliment to the online classes." (Maia 2.5 yrs)
"What a fun and interactive way to learn French. Genuinely surprised and delighted that my 5 year old was so engaged with it, the screen was no barrier to the personal element of the Mimi's classes that we love!" (Isla 5 yrs)
"I tried the online and It was really interesting for kids and very helpful for parents during this lockdown: my sons enjoyed it very much and it helped me to control the screen time by the activity sheets and the story book. I highly recommend it" (Marwaine 5 yrs and Moez 7 yrs)
She loves it and we do something from it every day. She can complete an ' Ou est le --------- ?' task perfectly, which is a thrill to see. I am so happy to have her exposed to French as a foreign language in such an appropriate way, so young; I only started at age 14, so she got a head start of 11.5 years with Mimi's! I have recommended Mimis to numerous families. Wendy (mum of daughter 2.5).
Who we are
We, Angie Canavan and Hélène Giacometti are the perfect combination for making Mimi's magic happen.
I (Hélène) grew up with French speaking parents, in Ireland, and so I fully understand the reluctance that some bilingual children will feel in speaking French. Mimi's is exactly the safe and fun environment that I would have thrived in to gain a love and confidence for my family's language.
I (Angie) learnt French fluently from scratch. I know exactly how it feels to be embarking on a new language journey, the pitfalls and the obstacles to overcome. I have a real understanding of how a language should be taught from day one. 
With many years experience in teaching, and language specialisms we have a real drive to make French fun and accessible for our youngest learners.
We have been running Mimi's French classes since 2014, specialising in teaching our youngest learners from babies and now to 8 year olds. We are so excited to have the opportunity to bring our Mimi's magic to everyone at home.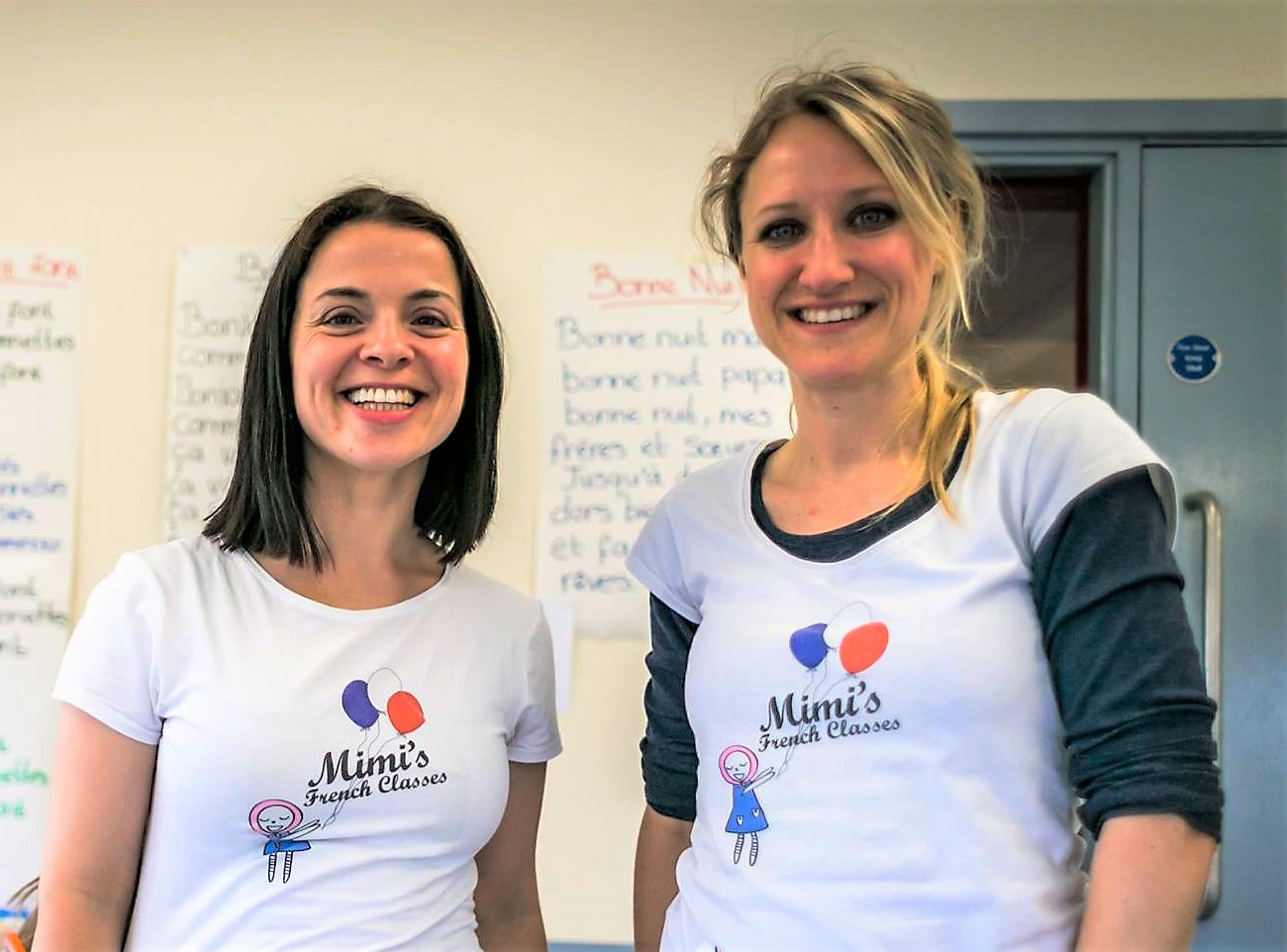 FAQ
My child is younger or older than the suggested age group - will the course still be suitable?
Yes, we have put a suggested age group but depending on the child the course could definitely suit a child of 2+ or a child just over 6.
Can I get a paper copy of the book?
Yes! The book can be bought from the shop on our website. Please follow the link: https://www.mimisfrench.com/shop.html
Is there a follow on course after this one?
We currently have two courses available - Mimi et le soleil and Mimi se fait mal. We have another in the works - Mimi a froid which should available soon.
Other courses in Mimi's French at Home